Our latest VECTOR Twin grinding machine has been dispatched this week, ready to be delivered to our customer, a major automotive supplier, in the USA. Manufacturing this machine has taken several months of designing, assembling and testing to make sure it is to the exact requirements of our client.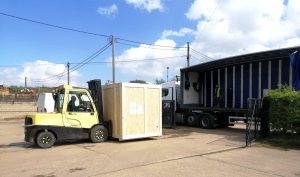 VECTOR Twin
The VECTOR Twin can be used to grind a number of different components, depending on the requirements of our customers. Many of our customers manufacture small, high precision components within the automotive, medical and defence industries. The Twin, from the VECTOR family of grinding machines, inorporated an indexing twin-spindle workhead, this allows loading and some secondary operations to be performed concurrently with the grinding process. Using this machine means that the process can be nearly halved in time, therefore improving productivity.
This particular machine uses a conveyor system which holds a number of pallets containing components. This reduces the amount of human interaction that the machine needs to operate. Once the pallet has finished being ground, the conveyor system moves it to the end of the machine, ready for the operator to pick up. An SPC drawer has been incorporated into the machine to allow the operator to inspect finished components whilst the machine is still running. This machine also features a Staubli robot and Siemens control system.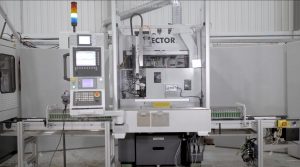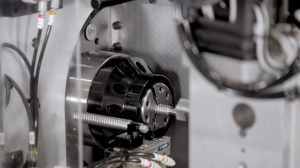 Check out our YouTube channel soon to see this machine in action.
Customisation as standard
When creating a bespoke solution for our customers, there are limitless possibilities to customising our grinding machines. We do this by using the latest technologies from the likes of Siemens and Staubli. The integration of additional processes can be offered to provide a complete turn-key solution, such as;
Vision systems
Automation
Workpiece inspection
Deburr, wash and dry
Laser marking, packaging and much more.
If you wish to find out more information regarding our grinding machines, please contact us. You can also follow us on LinkedIn and Twitter, to keep up to date with our latest news.