Ultra-precision grinding from Curtis Machine Tools with The Vector Nano
As new technologies, materials and products impose tighter controls on complex components, grinding to sub-micron accuracies with a mirror-like finish is becoming the norm. With this in mind Curtis Machine Tools have expanded their already extensive Vector range of grinding machines and are proud to announce that they can now offer The Vector Nano™. Ultra-precision grinding comes with its own set of issues – the need for high mechanical rigidity, extremely high spindle speeds, excellent damping, high overall loop stiffness and thermal stability being the key requisites.
The machine has been designed to have these fundamental requirements at the core of its ultra-high precision capabilities, as standard the machine is equipped with the following:
11.4kW liquid cooled hydrostatic wheel spindle capable of delivering grinding peripheral of speeds up to 120m/sec.
2.7kW liquid cooled hydrostatic workhead with guaranteed axial and radial position variation of less than 0.00025mm, this can as an option be reducing further to 0.0001mm.
Glass scale absolute linear encoders fitted to both the X axis and Z axis with 0.000001mm (1 nano metre) measurement increment.
Integral temperature monitoring and compensation system.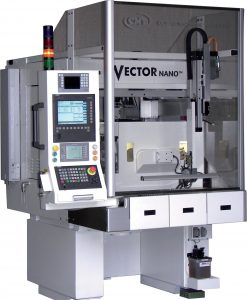 As with all the Vector range, the Vector Nano can be offered with the following options:
Angular or straight approach grinding
Standard or super abrasive grinding technology
Static, rotary and full form dressing
Automatic grinding wheel balancing system
Gap and crash detection system
Pre, In & Post process measurement system with full closed loop statistical process control
Vision inspection for post process feature measurement
Full automation comprising of integral loading system combined with numerous parts presentation options,
vibratory bowl, pallet, conveyor etc
Ancillary process integration such as deburr, wash, dry, laser marking, packaging etc.
Speak with our sales team to find out more.