Following the successful launch of both the Vector Pendulum and Vector Quad at EMO Hannover in September 2019, Curtis Machine Tools, one of the leading European manufacturers of grinding machines for small high-precision components such as diesel injectors and turbocharger parts, will this year be exhibiting the following machines at GrindTec 2020.
The VECTOR Twin & Flat has been developed specifically for the production of single spigot VGT vanes. These both require a cylindrical and surface grinding operation. The machine is based on the already well established Vector Twin but has an additional surface grinding station, enabling the vanes to have secondary operation complete in parallel with the cylindrical grinding operation. Thus giving a component production time of under 13 seconds.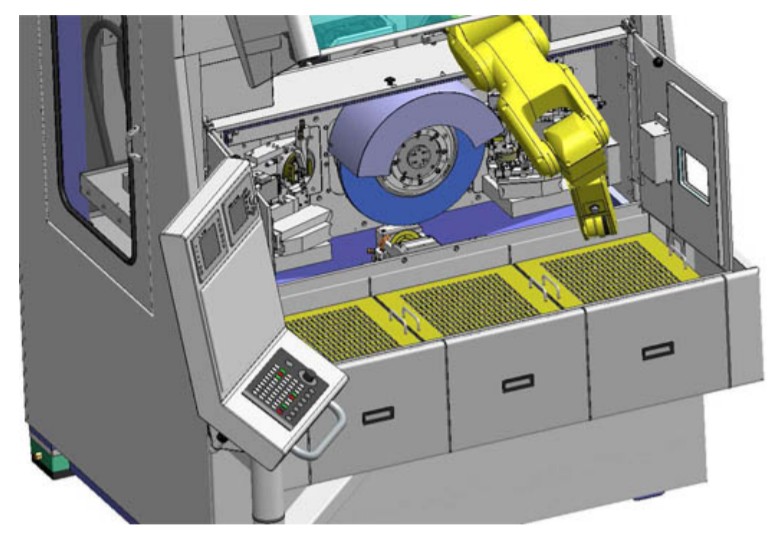 The VECTOR Pendulum operates on a truly unique principle. With this machine, the grinding wheel oscillates between two independent workheads, each of which can be set up for different operations on the same component. With workhead inclination angles of up to 30o, the outer diameter and shoulder can be ground for small parts up to 50mm diameter and 150mm in length. During oscillation from one workhead to the other, the grinding wheel can be dressed, giving the ability for the use of conventional grit grinding wheel, without the cycle time sacrifice for dressing, giving a low consumable cost, equally super abrasive can be used as the machine is capable of spindle speeds in excess of 100 m/s.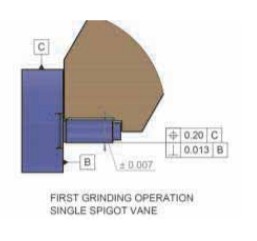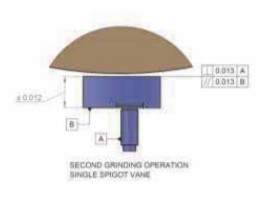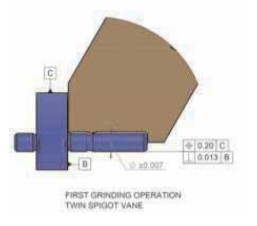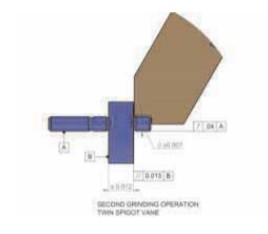 All the Vector machines in the range share the same grinding platform. With a long radial stroke and a short axial stroke, for single and multi-plunge operations or peel grinding of profiles.
The grinding wheel guard houses the workpiece and rear dresser, incorporating a shutter for loading access, ensuring that the grinding fluid/debris is retained within the machine. A variety of work loading and driving solutions are available. The machine can be configured for straight or angled approach with optional in-process gauging. The machine functionality incorporates as standard 3-axis Cartesian robot and a transitional parts storage area. Parts can be buffered in pallets using drawers or transferred in and out using linear systems. Primary and secondary processes, such as pre- and post-gauging, orientation, deburring, washing etc are all possible additions.
The layout enables good integration possibilities into the wider manufacturing environment, whether using manual transfer of pallets or linked linear transfer systems.
Basic
The core machine, with conventional workholding and Cartesian robot workpiece handling. The Basic variant has a wide application range and the greatest potential for future re-tooling for new components or applications.
Concentric
A centreless grinding variant incorporating a steel control wheel, work rest blade and 'concentric' pressure roller. Typically use for secondary operations on parts having a cylindrical body.
Twin
The Vector Twin incorporates an indexing twin-spindle workhead, allowing loading and some secondary operations to be performed concurrently with the grinding process. This gives advantages when the grinding times are short and minimises the spark to spark time.
Quad
The Vector Quad is based on the proven Vector Twin. However, the Quad has an indexing workhead with four spindles. This enables the outer diameters or contours to be ground simultaneously on two workpieces using the same grinding wheel, doubling the output.
GFS
Grind from Solid, a bar fed system complete with cut-off enables parts to be ground from solid rod. Unloading can be by gravity or robot. This variant is advantageous when parts to be ground are less than 5m in diameter.
Polygon
The Polygon variant uses a special workhead with a programmable 'B' axis allowing simultaneous axis interpolations facilitating the generation of forms, either cylindrical off axis or to a defined geometric profile.